What remains of my twelve colonies submissions for this round are below... It's been fun playing with you all! As for icons, help yourselves if you like :)
Unlikely Friends (PG)
She never had a sibling, or babysat. So Kara doesn't know how to treat Boomer's rescued kid except as a small adult, one she can bribe with cookies. Maybe that's why it works.
But at the end of each day, when she gets back from CAP, Boxey's laying in the bunk opposite hers, where Helo used to sleep before the world ended, waiting patiently.
Kara sighs, but it's important, this ritual. She takes
the Tales of Artemis
from her shelf and opens to their bookmark. He falls asleep after three pages.
She smiles, closes the book, and watches him sleep.
Headers:

( and another )
Icons: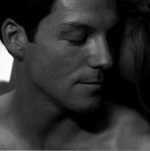 Gifs (made before I realized I needed to make them icon sized):